Sanford Woman Receives Lifesaving Care After Attack From Flesh-Eating Bacteria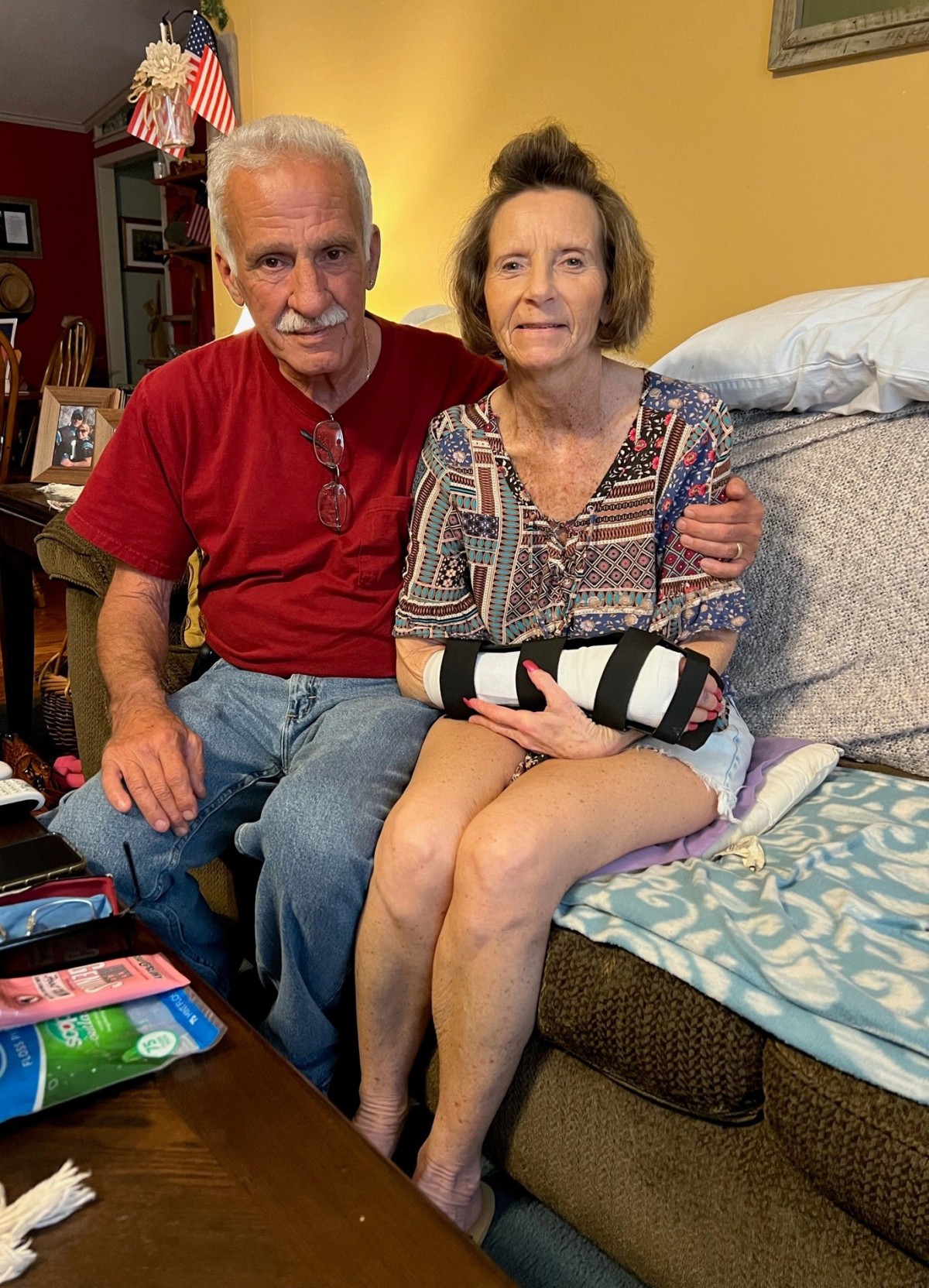 When Tammy Russ cut her thumb removing an ingrown hangnail, little did she know that she would nearly lose her life 24 hours later from a rare flesh-eating bacteria. But thanks to an astute diagnosis, emergency surgery and lifesaving intensive care at Central Carolina Hospital, she is alive and well today.
Tammy's thumb began swelling over a 12-hour period on June 7, and she became weak and could not stand up, said her daughter, Amber McDaniel. An urgent care center could not diagnose the problem.
Soon an ambulance was called to take her to the hospital. And there she encountered an ER doctor, Dr. Joy Hallmark, who had recently written a 12-page paper on the condition, called necrotizing fasciitis. She immediately identified it.
Dr. Richard Slusher, orthopedic surgeon with Central Carolina Sports & Orthopedic Medicine, performed emergency surgery, assisted by Dr. Steven Jurisich of Central Carolina General Surgery. Tammy's thumb had to be amputated, and the surrounding necrotized tissue was removed. She spent the next five days in the hospital's Intensive Care Unit.
"There was a 24-hour window, and we could have lost her," Amber said, her voice trembling in tears.
Tammy's necrotizing fasciitis may have developed from group A Strep bacteria. There are only 700 to 1,200 such cases each year in the United States. Up to one in three people die from the infection.
"Central Carolina Hospital provides lifesaving care, and they saved my momma," Amber said through her tears.
Tammy's husband, Kevin, was equally grateful when recalling the care his wife and family received.
"I'd really like to emphasize the quality of the care we received there," he said. "The staff ran into a textbook worst-case scenario that not many people know how to care for….
"Those people knocked it out of the park," he said. "No mistakes, everyone worked as fast as humanly possible. Those folks came through above and beyond. My wife would not be here living and breathing, if they were not as good as they are at what they do. I have nothing but praise for Central Carolina Hospital and their ability to react in a life-and-death situation.
"And the ICU, they really need a citation. The ICU team was amazing…. They were not going to lose her. I knew in my heart that they would keep her alive. They were great."
Afterward, the family was touched when Dr. Slusher called his former patient to check up on her at Duke University Hospital, where she received additional treatment. "He seemed very excited to hear how she was doing," Tammy said.
"Thank you so much to CCH for saving my sister's life," said Kennis Butner Jr., who is Tammy's brother. "We appreciate all the care and compassion she received!"
###
About Central Carolina Hospital
Central Carolina Hospital, a Duke LifePoint Hospital, is a 137-bed acute care hospital that serves the health care needs of Lee County and surrounding communities. With over 120 physicians, the hospital offers a wide range of specialties, including cardiology, orthopedics, general surgery, obstetrics, gynecology, otolaryngology, emergency medicine, emergency medical services, gastroenterology, pediatrics, hospitalist services, internal medicine, nephrology, neurology, hematology, urology, podiatry, dentistry, pulmonary medicine, and wound care and hyperbaric medicine. Hospital services include emergency room, physical and occupational therapy, ophthalmology, cardiac rehabilitation, diagnostic imaging and radiology, inpatient and outpatient surgery, dialysis, maternity services, nutritional counseling by clinical dietitians, and diagnostic cardiac catheterization. Central Carolina Hospital was reaccredited by the Joint Commission for a three-year period in 2021.
Read All Posts