Breast Ultrasound
This technology helps physicians determine if a breast lump is solid or filled with fluid.
Ultrasound is also helpful in guiding the physician when performing a breast biopsy and in finding breast abnormalities in women with dense breast tissue. Like breast MRI, it is not a replacement for mammography; it is a supplement, giving the physician more information to make a diagnosis.
Breast Biopsy
When we need a sample of a breast abnormality (cyst, suspicious mass), we use imaging to assist in locating the abnormal area. To ensure accuracy, the doctor might use ultrasound to watch the needle on a screen as it moves toward and into the mass. Or the doctor may use a method called stereotactic needle biopsy to guide the needle.
During a stereotactic needle biopsy, computers map the exact location of the mass using mammograms taken from two angles.
Breast MRI
Breast MRI is used in addition to mammography to evaluate the breast, lymph nodes, and surrounding muscle for breast cancer or abnormalities. If breast cancer is present, a breast MRI helps the physician determine its size and if it has impacted the surrounding lymph nodes or muscle. We also use breast MRI to evaluate lumpectomy sites, non-cancerous breast abnormalities, and implants, if needed.
Breast Health Resources
Breast Cancer Support Group
Meetings have been suspended since March 2020 due to Covid. Hopefully, we will be able to begin the meetings in the near future.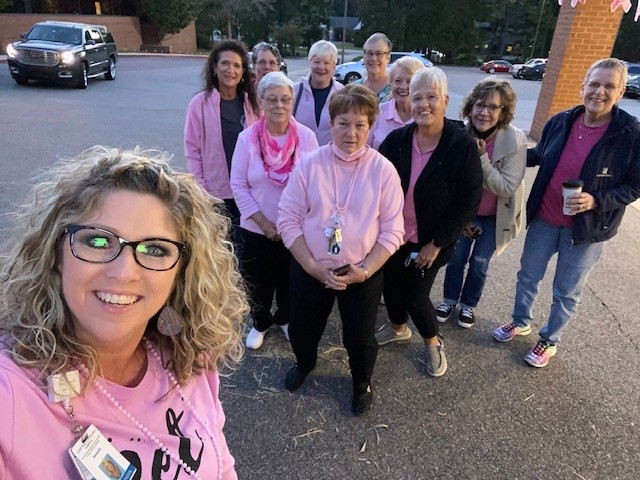 Central Carolina Hospital's Breast Cancer Support Group facilitated by the breast health navigator meets on the second Tuesday of every month at 6:15 P.M. in the Women's Center. Current patients, survivors, and caregivers are welcome and encouraged to attend. The breast cancer support group provides engaging discussions, peer experience, and resources, emotional support, and encouragement.
CCH Auxiliary Breast Cancer Comfort Funds
The Central Carolina Hospital Auxiliary Breast Cancer Comfort Fund was established to help breast cancer patients with comfort items that may not be covered by insurance, as well as patients who are uninsured or have financial constraints.
Comfort items include head coverings such as caps, scarves, hats, wigs, and other specialty items that may be required. They may also include mastectomy bras, a breast prosthesis, or compression garments for patients with lymphedema (an accumulation of lymph fluid in the layers of skin that cause persistent swelling in the arm or breast).
Fundraising events are held throughout the year to support the CCH Auxiliary Breast Cancer Comfort Fund.